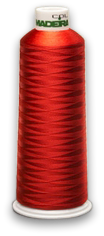 MADEIRA
is a specialist in the world of industrial embroidery and decorative thread and has been for almost 100 years. With expert technical know-how and wide experience Madeira will assist you and your customers in a perfect way. Madeira does not offer only one or two basic qualities, but many different threads and the widest selection in the world. For example, four different types of viscose threads in different thread thicknesses to fit all purposes. Polyester thread in single, fluorescent and multi colours, plus Ultra sheen polyester, many different Metallized threads in a range of colours, textures and counts, Wool effect thread and polyester and cotton Bobbin thread, on cones or pre-wound all add to the dazzling choice.
In addition to embroidery and decorative threads Madeira offers important accessories to make daily work easier - shadecards, designer assortment boxes, starter kits, needles, scissors, sprays, water soluble and heat soluble embroidery films, non woven backings and spool & cone stands.
All Madeira embroidery and threads fulfill the
Okotex standard 100
- qualities Classic, Polyneon, Burmilana have even been awarded the highest standard, CLASS I. This means that the thread does not contain any harmful or toxic substances which could be dangerous not just for babies, but to anyone. The company also has
ISO 9001 Certification
!

One of Madeira's biggest aims is to supply best possible quality. Therefore Madeira concentrates on quality control even before production begins, by only buying high quality greige goods, as well as during and after the production proccess. Each dye-lot which leaves production is tested on our own embroidery machines and in our own labatories.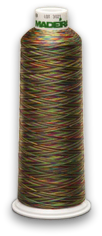 There are sometimes price variations between Madeira and other manufacturer's threads. It is not only the price of one spool or cone that counts. It is the look and the quality of the embroidery, the fact that the range and standard of colours are more than satisfactory, the thread runs smoothly and without problems and the 'extra' service Madeira provides.